The Philippines is counting the human and economic cost of Typhoon Mangkhut, which ripped through its main island with deadly consequences on Saturday.
At least 25 people are known to have died but blocked roads and downed communications lines mean the true impact on rural areas is not yet clear.
Extensive crop damage is feared in the agricultural province of Cagayan.
The storm, which packs a 900km (550 mile) rain band and strong winds, is heading towards southern China.
It poses a "severe threat" to Hong Kong, the territory's observatory said, urging residents to stay on high alert.
In the Philippines, it made landfall at Baggao, in the north-east of the main island of Luzon, at about 01:40 local time on Saturday (17:40 GMT on Friday) and left some 20 hours later.
Originally a super typhoon billed as the strongest storm of 2018, it lost some of its strength on landfall.
Five million people were in its path and more than 100,000 sheltered in temporary centres.
Francis Tolentino, a presidential spokesman and disaster response coordinator, said almost all the deaths had been caused by landslides in the Cordillera and Nueva Vizcaya regions.
He added that reports from other areas were still coming in.
One person was killed by a falling tree in the province of Ilocos Sur, Mr. Tolentino said.
Almost all buildings in the city of Tuguegarao, Cagayan's provincial capital, sustained damage, a government official said.
According to Tolentino, there are also extensive crop damage in the agricultural heartland state.
He estimated only a fifth of produce there had been harvested in advance – threatening staples like rice and corn.
READ ALSO: High chief murdered on his farm —Police
……………………………………………….
Storm Florence: 'Epic' amounts of rain unloaded on Carolinas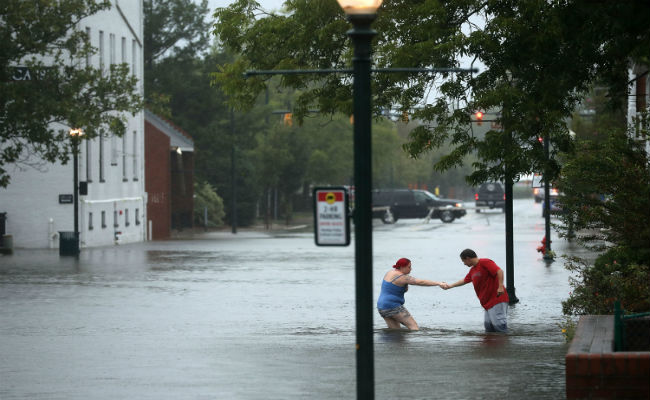 US east coast communities face "epic amounts of rainfall" from tropical storm Florence, which has been linked to at least 12 deaths.
It has caused catastrophic flooding since arriving as a category one hurricane on Friday.
Some towns have already seen 2ft (60cm) of rain in two days, with totals forecast to top 3.5ft (1m) in places.
It is feared that more communities could become deluged as the storm crawls west at only 2mph (3km/h).
"This system is unloading epic amounts of rainfall, in some places measured in feet and not inches," North Carolina Governor Roy Cooper said on Saturday.
He urged against residents attempting to return home, warning that "all roads in the state are at risk of floods."
A disaster has been declared by US President Donald Trump in eight counties in North Carolina – a move that will help free up federal funding for recovery efforts.
The president may travel to the region next week, the White House says.
US media say 12 people have died as a result of the storm.
90total visits,1visits today