Rescuers in the northwest Italian city of Genoa continue to search for possible survivors after the dramatic collapse of a motorway bridge.
Police say at least 26 people were killed and 15 badly hurt, when dozens of vehicles fell 45m (148ft).
Reports say cries can be heard from people trapped in the debris.
Twelve people are said to be missing.
Some 300 firefighters from across Italy have been using sniffer dogs and climbing gear in the search.
"We're not giving up hope," fire official Emanuele Giffi told AFP, vowing teams would work "round the clock until the last victim is secured."
Hundreds of people were evacuated amid fears other parts of the bridge might fall.
The cause of the disaster, which occurred during torrential rain, was not immediately clear but questions had been raised about the safety of the structure.
Interior Minister Matteo Salvini has vowed to bring anyone responsible for the collapse to book.
The Morandi Bridge, built in the 1960s, stands on the A10 toll motorway, an important conduit for goods traffic from local ports, which also serves the Italian Riviera and southern coast of France.
"We are continuing with the rescue operations because we think there are other people alive under the rubble," Genoa police spokesperson Alessandra Bucci told Reuters news agency.
Rescuers from all across northern Italy were at work on the debris.
The Italian fire service tweeted a video of one person being extracted and carefully lowered on cables from a shattered vehicle, which was suspended in the wreckage of the bridge, high above the ground.
Between 30 and 35 cars and three heavy vehicles were on the bridge at the time of the collapse.
A huge tower and sections of the bridge collapsed on to railway lines, a river and a warehouse.
Reports suggest that nobody was killed on the ground, although some people were injured.
Marcello de Angelis, who is co-ordinating the Italian Red Cross rescue effort, told the BBC that rescuers were treating the disaster like an earthquake.
Fraser Anning: Australia MPs condemn 'final solution' speech
An Australian senator has been widely condemned for a speech that invoked the term "final solution" in a call for immigration restrictions based on race.
Fraser Anning, from the conservative Katter's Australian Party, called for migration bans on Muslims and others in his maiden Senate speech on Tuesday.
Political opponents denounced his speech as "disgraceful." Mr. Anning said he did not need to apologise.
"Final solution" was a term infamously used by the Nazis during the Holocaust.
In his speech, Mr. Anning said "the final solution to the immigration problem is a popular vote."
On Wednesday, lawmakers across the political divide moved to pass parliamentary motions censuring Mr. Anning for his "racist hate speech," noting in particular his use of the phrase "final solution," and his "false, misleading and hurtful statements" about Muslim Australians and other immigrant groups.
Prime Minister Malcolm Turnbull said Mr. Anning had made "a shocking insult to the memory" of those murdered in the Holocaust.
The Holocaust was the Nazis' assault on Jewish people between 1933 and 1945.
It culminated in what the Nazis called the "Final Solution of the Jewish Question in Europe," in which six million Jews were murdered.
Mr. Anning has denied that his words were a reference to the Holocaust, describing himself as an advocate for Jewish Australians.
On Wednesday, he said: "I don't regret anything. I am not going to apologise or regret anything that I say."
The senator, a former member of Pauline Hanson's anti-Islam One Nation Party, called for a return to the White Australia Policy – which restricted non-European immigrants from 1901 until the 1960s.
Labour's Senate leader Penny Wong, who was born in Malaysia, said the White Australia Policy had been "rightly consigned to the dustbin of history."
The Sydney Morning Herald newspaper reported that Mr. Anning had given "the most inflammatory maiden speech to an Australian parliament" since Ms. Hanson said in 1998 that Australia was "in danger of being swamped by Asians."
Mr. Turnbull told parliament: "We need to stand up for what we are… the most successful multicultural society in the world, united by democratic values that do not distinguish between race, religion, colour or cultural background."
Anger over Mr. Anning's speech extended beyond the parliament.
Among those to speak out was Australia's first Muslim Test cricketer, Usman Khawaja.
Nearly half of all Australians were born overseas or had one parent who was born overseas, according to the Australian Bureau of Statistics.
Mr. Anning was elected last year after the disqualification of another senator, despite receiving only 19 votes in Australia's 2016 national poll.
He quit the One Nation Party last year to join Katter's Australian Party, whose sole other parliamentary representative is leader Bob Katter.
Mr. Katter said he supported Mr. Anning's speech "1000%" but suggested that his colleague did not know much about the Holocaust.
"He's smart, but he hasn't read all the history books," Mr. Katter told reporters.
Venezuela: Military figures arrested after drone 'attack'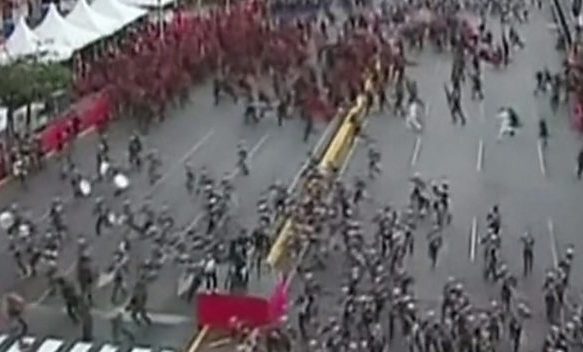 Venezuelan authorities say they have arrested 14 more people in connection with an alleged attempt to assassinate President Nicolas Maduro.
READ ALSO: Stevie Wonder, Jesse Jackson visit ailing Aretha Franklin
Among those detained are a general and a colonel from the National Guard.
President Maduro has accused opposition politicians and neighbouring Colombia of plotting to kill him in a drone attack during a military parade in the capital Caracas on 4 August.
Chief prosecutor Tarek Saab said 12 other people were so far in detention.
Two drones loaded with explosives were detonated at the parade as the president was speaking.
Venezuela has issued 27 arrest warrants for the apparent attempt on Mr. Maduro.
Those arrested to date include a lawmaker and several young men.
The Venezuelan authorities say other suspects are still at large, many in neighbouring Colombia and the United States.
Mr. Maduro accused Colombia and elements within the US of instigating "a right-wing plot" to kill him.
The Colombian government says there is no basis to Mr. Maduro's allegations.
US National Security Adviser John Bolton denied any US involvement in the incident, adding that it could be "a pretext set up by the regime itself."
Mr. Maduro has said he will allow US FBI agents into Venezuela to help investigate the alleged assassination attempt against him.
The country faces a deep economic crisis which has driven hundreds of thousands of Venezuelans abroad.
Many opposition leaders have already left the country citing government harassment.
There are reported to be more than 200 political prisoners in the country's jails.
In May, Mr. Maduro won re-election to a second six-year term in a vote marred by an opposition boycott and claims of vote-rigging.
South Korea to ban some BMW vehicles over engine fires
The South Korean government has said it will ban about 20,000 BMWs from its streets after a spate of the vehicles catching fire.
The ban will apply to cars which have not yet been sent to BMW for safety checks under a voluntary recall.
Nearly 30 engines caught fire in 2018 mainly in the BMW's 520d sedan models.
BMW has already come under scrutiny this year, recalling thousands of cars in the UK over safety issues.
"The ministry will ask mayors to order owners of unchecked BMW vehicles to have their cars' safety checked or to stop driving them," Transport Minister Kim Hyun-mee said on Tuesday, according to the Korea Times.
Local governments have the authority to issues such orders under South Korean law.
"The order will take effect as soon as the owners receive letters from mayors," said Mr Kim.
BMW officials in South Korea apologised last week for the fires.
They have put the problem down to defects in the exhaust gas recirculation system, according to Reuters.
The South Korean government is also investigating the cause.
The German car company has already recalled more than 300,000 vehicles this year, extending a UK recall after the BBC's Watchdog programme found the vehicles could cut out completely while being driven.
Last year, it recalled more than 36,000 petrol cars due to safety issues after a fatal crash.
The BMW had suffered an electrical fault, causing its brake lights to fail and resulting in the vehicle stalling and crashing into a tree.
BMW also recalled 500,000 cars in the US in 2013, as well as in Australia, Canada and South Africa.